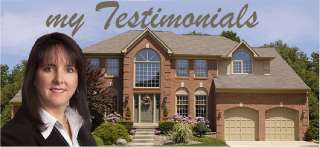 Understandably, many times the delight of being in a new home overshadows the efforts that were put into finding it. Gladly, many of my Clients were kind enough to take a moment from their busy moving responsibilities to send me a bit of praise. I have been blessed with the opportunity to work with so many wonderful people during my career and I'd like to return the "thank you". My real reward is in knowing I have made a difference to so many happy people.
Karen

My Testimonials

---
---
---
Katie S.
Karen did a great job in every aspect of selling my property. From listing the property to the closing, Karen was on top of every detail and made the whole process proceed smoothly. As I was often traveling and not at my property for long periods, I was alway impressed by how Karen was willing to help with many of the everyday details when I was not present to deal with them, including attending the closing for me. Karen has a keen understanding of the real estate market and was able to provide sound advice and insight into all aspects of selling my property. I would highly recommend Karen to anyone considering selling their home or property.
---
Donald B.
Karen Shaver was first recommended to me by my daughter, who is herself a real estate agent in another part of the country. On very short notice, Karen arranged for my wife and me to see a couple of homes that had recently come on the market. She was very helpful in the buying process, and very promptly took charge of our selling our existing home. All our friends were astonished at the smooth way she handled both ends of the transaction, getting more for our home than we thought possible. She also helped us with all the fringe problems that go with such a life change. We were thoroughly delighted, and impressed with her combination of considerate kindness and efficient professionalism.
---
Theresa H.
Karen is the ultimate professional when it comes to finding the perfect house for her clients. She is extremely knowledgable and knows how to navigate the process of buying and selling a home from start to finish. Karen is all about what is in the best interest of her clients. Because of her integrity and knowledge I would not hesitate to call her when buying or selling my home!
---
Matthew M.
I have used Karen to purchase a property, sell another property, and currently to rent a property in Thorndale. In my 7 years of working with her, she has been a trusted advisor, a source of new leads, and keen eye when I couldn't be available. Above all, she is that rare and extremely valuable asset in real estate - unwaveringly and un-apologetically honest. When it's as large and important an investment as real estate, there is nobody else I would ever think of working with.
---
Paula P.
Karen was very easy to work with and helped us to sell our house within two months in a very tough market. She made a normally stressful closing very easy and stress free. When my mother was ready to sell her place, I knew just who to call!

---
Irene Q.
We were buying a new home for the first time in many years so we needed to work with someone who was experienced and knowledgeable about the local market. Karen was responsive and reliable, and was able to provide the information we needed. She was always available to answer our questions and was courteous and professional in her approach.





---
Mark P.
Karen was great!!! She helped me buy a fixer-upper about 10 years ago, then sell it last year (only a couple of months in a tough market), and buy the home we live in now. Perhaps my repeat business of going back to Karen is my best testimonial. Knowledgable, professional, hardworking....it's hard to pick just a few traits to sing my praise about. Without hesitation I would call Karen again if I needed to buy/sell a house. I give her my highest recommenation!!!



---
Jeffrey D.
Karen made the first time home buying experience great!! Any questions I had (no matter what time of day or night) she answered and if she couldn't she would point me in the right direction. Not only did she help me on the purchase of my house, she also went out of her way to assist me in lowering my property tax which dropped my mortgage substantial. I would recommend her to all my family and friends.
---
Katherine S.
Working with Karen was a great experience. She knows the housing market very well and was able to answer any questions we had. Ultimately she helped us find and purchase exactly what we had in mind. When it was time to buy she made the process very easy and explained everything to us. I highly recommend her and would not hesitate to use her again.
---
Beth M.
Where to begin... We knew from the very beginning that selling this home would be a challenge. Mom didn't want to move, the market was slow, and the house was not exactly the most marketable. You were very professional, understanding the family emotions and dynamics while working with us to set realistic expectations. We were prepared for it to take a year or more to sell the house. Not only did we sell the house in a few months, but you also orchestrated the purchase of a new home for my parents and occupancy before settlement, which was a must. Words cannot express the thanks we all have for smoothing the way through a very emotional time. It was very hard to sell the home that was the family center for almost 50 years. My parents are very happy now in their new downsized home. And isn't this the 5th house that you've helped my family buy or sell in the past 4 years? Pretty impressive! Karen, you are the best! And have anyone contact me that wants a referral. I will always give you an A+++ rating and referral. Thanks so much, Beth
---
Kevin H.
Thank you again for all of your help in making our dream come true....we couldn't have done it without you.

Kevin and Nicole
---
Susan G.
Dage and I have now been in our townhouse for almost two months. Things are going well. We wanted to thank you for all of your help with the entire process of buying our home.
---
Sally N.
Karen has been a GREAT assist in my house search - I have been very pleased with her attentiveness to me. Karen has been carefully combing the listings to get houses for us to visit that match my criteria. I'm rather fussy, and Karen has really hung in there with me. I haven't found the "perfect" place, yet - but, I am sure I will with Karen's help.

Sally
---
Louise S.
Thank you for everything. You have been awesome!!
Louis and Tammie

---
Sue M.
Thanks! You have been wonderful. I will recommend you to anyone I know buying or selling a home.

Sue
---
Mike M.
Just a note to say thank-you for all your hard work selling our home. It was a pleasure working with you. Please come by our new house for a visit.

Mike and Karen